Problem Space and Concept Development
As part of a project studio entitled "Sweet Auburn: Birthplace of Ideas" in the School of Literature, Media, and Communication at Georgia Tech, we were tasked with "engag[ing] stories of the civil rights movement and how they surface, shape, reinforce, or challenge social justice issues central to the past, current, and future development of Sweet Auburn specifically and Atlanta more generally."
We sought to celebrate Auburn Avenue.
Our "Eureka!" moment was when we thought of cards. In our lives, we have witnessed the immense value of cards—trading cards between friends (especially young people); post cards to relatives in faraway places; greeting cards for special occasions. Through our project, we envisioned physical cards that feature short stories from Sweet Auburn, showcasing the history of the district and celebrating its present. We wanted to start with this physical medium as a traditional way to share and to collect.
Sketches
Our first sketches explored the different card types, from trading cards to post cards. We focused on the amount of space that these cards take and the amount of information that each type allows. It was important for us to maintain certain elements, including a large photo, a title, and a description. We wanted to maintain this visual hierarchy so that it can be both appealing and informative for the general public.
Initial Designs: Sharing
Our first designs focused on the main elements that we wanted to incorporate: image, title, description, and code. This code would be unique to every card, allowing each person who finds or receives the card to claim the card and take ownership of the card. The code also serves as a tracking system if the card ends up on social media. This opens up the potential for a stand-alone website tracking the cards and the places that they are spread to. The code is a bridge to our ever-important sharing component.
Iterating
We started to move beyond traditional post cards and trading cards in favor of a foldable card. The folding mechanism would allow the card to maintain a small size, while also giving the opportunity for more content and story.
Through our research, a few themes emerged:
- social activism
- music
- churches
- entrepreneurship
We wanted to capture these themes in story (text, typography, and image). We wanted these cards to be aesthetically-pleasing and enticing. Our iterations explored various designs and interactions with the card.
Testing and Feedback
We tested these cards for functionality (especially interaction and hierarchy of information). We wanted to see how people would approach the card, open the card, and read the card. People were very intrigued by the process of opening the card. It was different than just a trading card or a post card because of the very subtle nature of opening the card, introducing the user to more information. We also noted the information that users retained.
Refining Designs
After multiple iterations and multiple rounds of testing, we revisited our original goals, namely to celebrate the history of Auburn. We worked to incorporate powerful stories that emerged from Sweet Auburn. For us, it was always important to share these stories within Sweet Auburn, but also beyond Sweet Auburn. Doing that became a task in and of itself.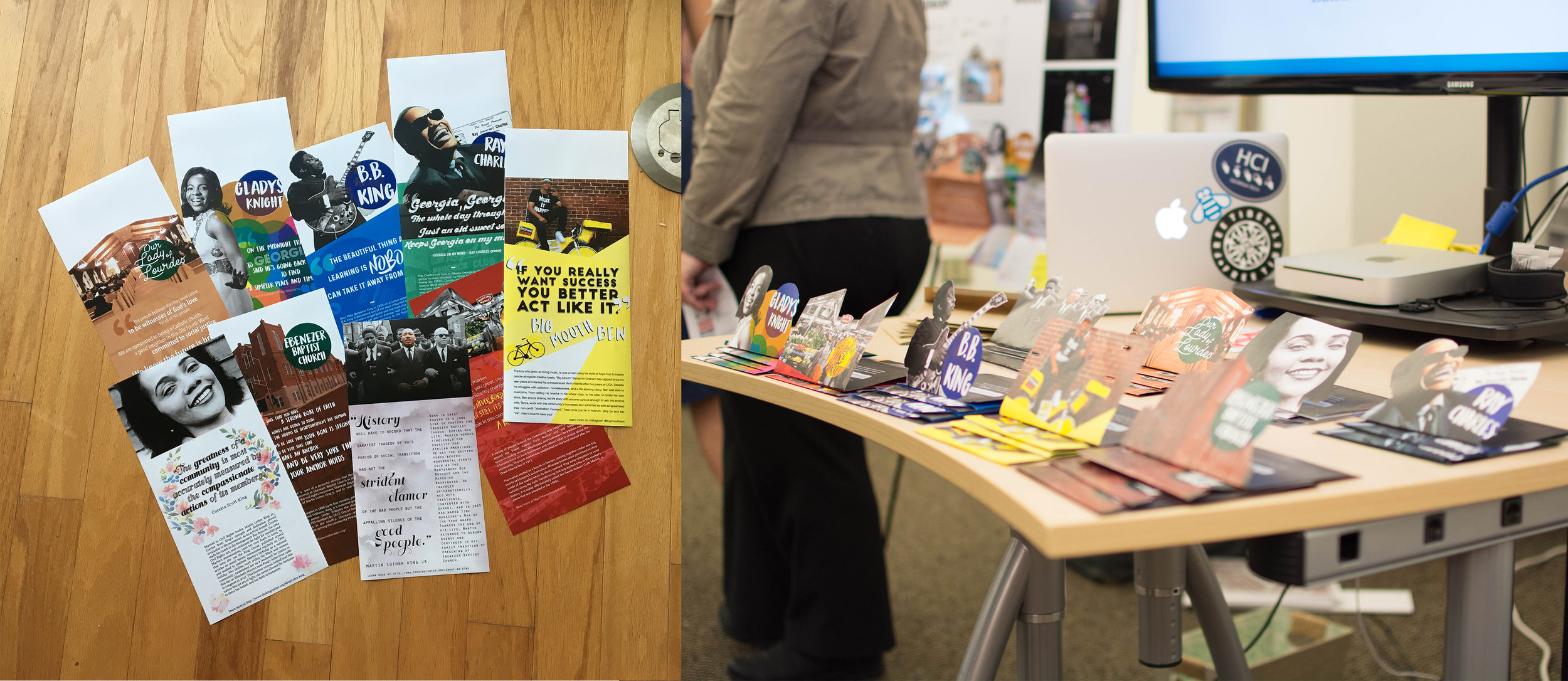 Final Designs
Our final designs showcase stories from Sweet Auburn, starting with a powerful image that draws visitors in. We imagined that these cards would be placed on countertops of businesses along Auburn Avenue where community members, students, and tourists alike could pick them up to keep, send, or post on social media.
For that reason, we also have a visually-appealing quote and a more descriptive story on the bottom. The entire back of the card describes the mission of the Sweet Auburn Story Collective and how to participate in its mission.
Digital Component (Mock Ups)
The digital component of our project includes a stand-alone website that tracks the cards and an Instagram page that utilizes location and hashtags. These mock ups (made by Shruti Dalvi) showcase the different ways to share or keep the card. A retired visitor to the King Center may find a card of Coretta Scott King and send it to a friend involved with Black Lives Matter. A student at Georgia State may be traveling through their neighborhood and find a Ray Charles card and post it on their dorm room wall with other cards and stickers that they have found. A pastor may see the card on Our Lady of Lourdes and bring the card to another church called Our Lady of Lourdes halfway across the world. The Sweet Auburn Story Collective was always meant to be a networked experience, sharing and celebrating the history of Sweet Auburn beyond Sweet Auburn.
The success of these two digital components would depend on the people who find and share the cards.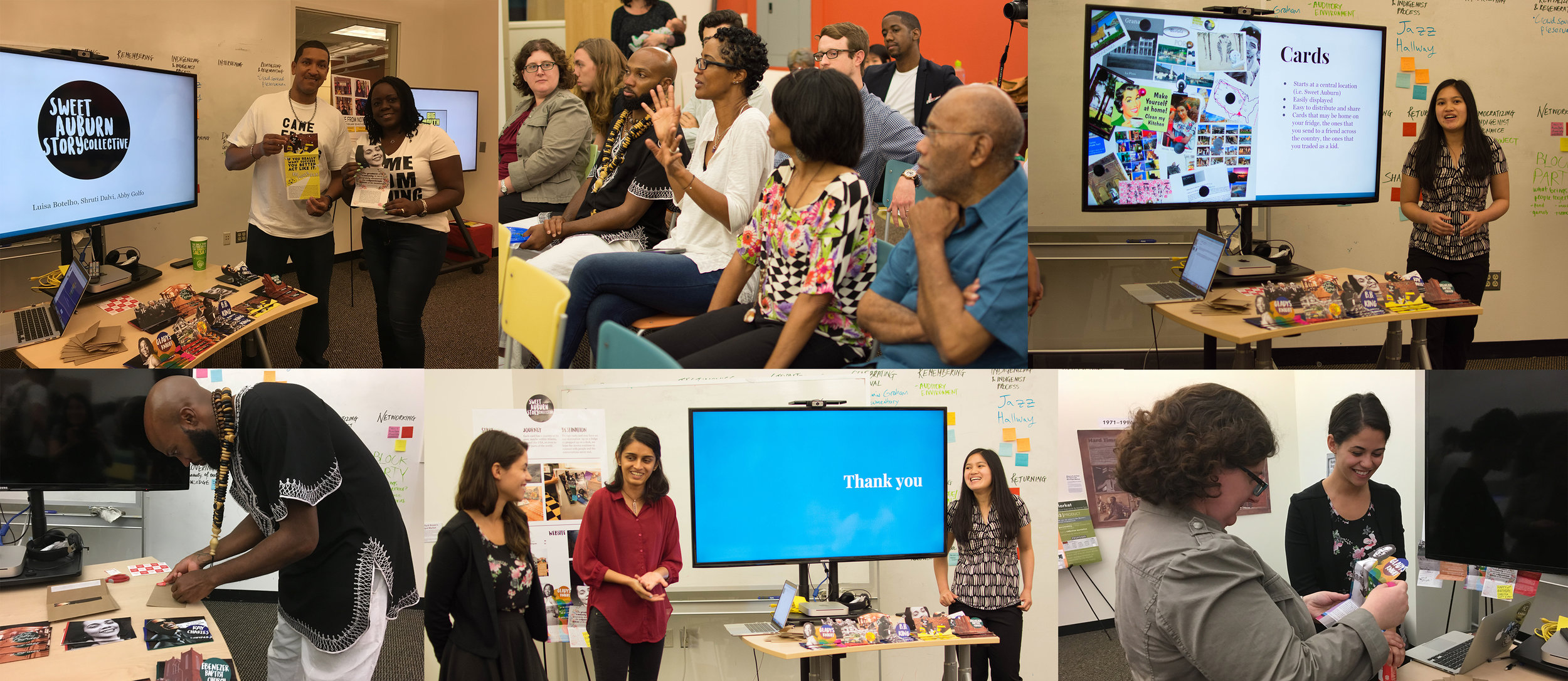 Learning Outcomes and Future Directions
In May 2017, we shared our creation with the community. We were so happy and honored to see the positive reactions from the community. We also received feedback that will help us or others continue the project into the future.
If the project were to continue, we hope to work with the community to create more cards and aim towards a more meaningful representation of the community.
My Designs
Although all three of us contributed to the final design in various ways, we decided to split up when approaching the different categories. We inserted our own design choices into these categories. I took on the music category, making cards for B.B. King (who performed at The Royal Peacock in Sweet Auburn), Gladys Knight (Atlanta native who performed at The Royal Peacock early on in her career), and Ray Charles (Georgia native who performed at The Royal Peacock).
In choosing the design (photo, placement, color, type, size) and content of the cards, I decided to focus on the era in which they were popular, their connection to Georgia, and their inspirational lyrics. I wanted their cards to pop with dynamic photos and happiness abound. All three performed so passionately, albeit in different ways.